TP-Link TL-WR840N 300Mbps Wireless N Router
A standard Wireless Networking Router by TP-Link Networking Products  Suitable for setting up a wireless WiFi Network for your Home  or Small Office to Let connect to your WiFi  Enabled  devices such as laptops, computers, phones, printers, copiers.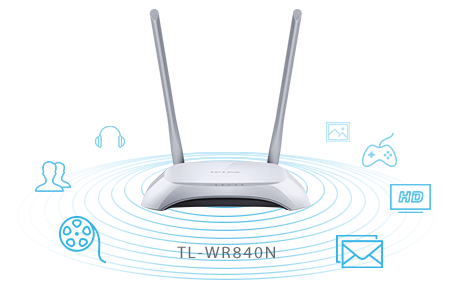 Router Specifications 
Range of 25 M once Installed in a corner.
Maintains a  signal strength of 60 % to 80% in 25 meters range.
Has WiFi  speed of  90 Mbps  @ 60% network.  and speeds of 108 Mbps @ 80% network. 

You experience a full speed of 300 Mbps @ 100% network reception.

Easy to put it in to running in 4 minutes Good price. (Got in 2500/- deal).
Can maintain up to 10 Devices. 
MORE PRODUCT DETAILS >> TP LINK WIFI ROUTER WR840
ONLINE SIMULATOR HERE >>  TL-WR840N  ADMIN INTERFACE SIMULATOR